One area we always visit but would like to see improved is the Department of Environmental Conservation's nature trail. It's located right behind the DEC's cabin. It features a series of exhibits on New York's state bird, state flower, state insect and so on.
The trail hasn't changed in years and is generally less than inspiring. There are no bluebirds, for instance, at the stop on state bird, and no ladybugs at the insect stop. You can see the brook trout, the state fish, but you have to go over to the DEC aquarium at the colonnade.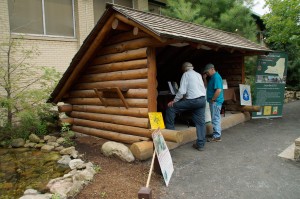 There is a replica lean-to that's nicely built and generally staffed, so the display, shown here in photos shot last year by Hound Photo Editor Nick LoPresti, isn't a complete disappointment. But we think the DEC could do better and would like to see them do an update here.