There's plenty to talk about as opening day of the 2014 New York State Fair approaches. The biggest story of the off-season is the contract the state has given to Wade Shows, Inc. to operate the midway, a role filled for decades by the James E. Strates Shows. Every Fair visitor and certainly every local media outlet will make comparisons and decide whether this was a good decision.
If you visit the Wade website, as we have several times, you'll see a lot of rides and attractions that look familiar. Let's face it, there are only so many rides available and so many ways to design the midway game joints and vendors, so it's not unlikely that less attentive fairgoers may not even notice the change.
If your favorite ride isn't on the lot (does Wade have a Top Spin?) you may be disappointed. Is the setup as large, as exciting, as much fun? If so, then the kids will be happy. But there are many ways to compare, so here are a few we thought of.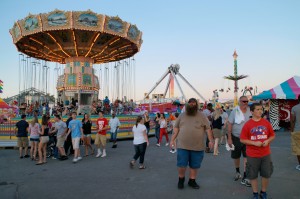 Wade has already announced sale prices of all-day ride wristbands ($20 advance, $25-$30 onsite) and a mega pass that will allow unlimited rides for all 12 days for $70. If there are exclusions or rides that are frequently unavailable, these deals won't be quite so great. We haven't seen anything announced regarding the price one or two rides instead of buying passes. Also to be determined is the duration of rides and the length of lines to get to the most popular ones.
Wade has promised more spots to relax and recharge for families who have spent hours dashing between rides. Shaded spots out of the mainstream to take a breath and offer respite for pavement-tired feet are always welcome.
Are the games fair and exciting? Are prizes winnable and desirable? How these may differ from Strates is intriguing.
How Courteous and friendly are employees? Staff should be on their best behavior in their Empire State debut, striving to make friends and court return customers.
The overall cleanliness and freshness of the midway is important and the efficiency of the operation and the convenience of the setup matter. Leo Brannick, the Strates Shows' lot man won't be drawing up the floor plan this year, so Wade Shows will be relying on their own specialists. The last few years Strates laid out their rides in an X-shaped alignment that has been an improvement over the traditional oval pattern. Let's see how well the new guys figure it out.
The midway will certainly be a State Fair Hound destination on opening day and we'll let you know what we see there.