Following the Hound's Sep. 30 post, about fall activities at the Fairgrounds, Falling For the Fairgrounds, we heard from Kara Lynn Dunn who reminded us about a terrific annual event that's coming up on Oct. 25 and 26 in the cow barn. The Empire Alpaca Extravaganza is a free event that brings in farmers and ranchers from the Northeast and Mid-Atlantic regions, including 16 New York State farms, all here to display their alpacas, the South American cousin of their camel, revered for having soft and amazingly warm wool.
These llama relatives are increasingly popular in the United States, particularly in northern states where they are unfazed by cold temperatures and content to graze on grass. The nationally-certified free event will feature competitions, seminars, a fleece competition, youth activities, a fiber arts demonstration and a vendor marketplace. Some animals will be sold over the weekend and visitors will be encouraged to explore alpaca ownership as a business opportunity.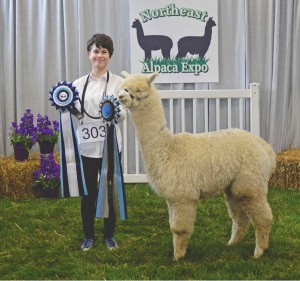 Sixth Day Farms of Brockport will be at the 2014 Empire Alpaca Extravaganza with alpacas from its herd of more than 100. Farm owners Wayne and Leann Jarvis have developed a selective breeding program specializing in fine white huacayas noted for animals with premium fiber quality throughout their lifetime. Alexandra Weaver is seen here with Synergy's Queen Bea who will be at the show. Photo provided by the Empire Alpaca Association.
The extravaganza is a great family event as the personable alpacas fill the barn, often within petting range. Baby alpacas, known as crias, are especially adorable. Early Christmas shoppers can find sweaters, gloves, socks, hats and other apparel items of unparalleled quality and wearability, some woven in the US from animals raised here and fiber woven by American crafters. Extravaganza hours are 9 a.m.-4 p.m. each day.
For more information, visit the organization's website, www.empirealpacaassociation.com.