The Hound heartily recommends a television show that never fails to bring to mind the New York State Fair. The Food Network has been running a half-hour series called Carnival Eats. It features lanky Noah Cappe as the personable and enthusiastic host, traveling around the US and Canada visiting fairs and festivals to sample some of the unusual alfresco eats being cooked up by vendors.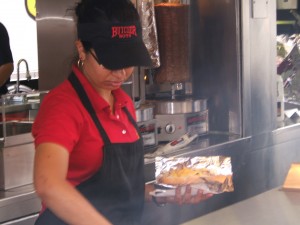 We haven't seen Cappe visiting our Fair, but some of the food looks familiar, as he has featured blooming onions, deep fried pickles and barbecued ribs. What's most intriguing is his reveal on foods that haven't made their way to us yet, some of which look delicious. Maybe we'll soon get to sample a lobster corn dog, a peanut butter cobbler or a strawberry/arugula pizza. One guy showed him how to make a thanksgiving waffle, pouring stuffing mix into a waffle iron to make the platform for his roast turkey, gravy and cranberry sauce.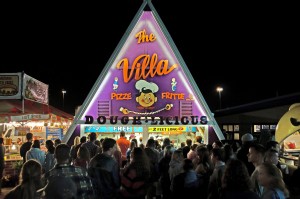 Some of the freakish foods lean toward the revolting as they deep fry everything from butter to gummy bears. Some vendors go for shock value, like the one who puts scorpions on pizza. Yuck!
After learning how to make the various fair treats, the quirky Cappe digs in and gives his reviews, which always come out positive, often glowing. He then interviews patrons for their take on what's on the menu.
The show is tasty fun for midway connoisseurs, supplemented by camera shots of the rides and action nearby, again looking familiar to local State Fair hounds. The scheduling of Carnival Eats is irregular, so you'll have to look for it. You can also find recipes and full episodes on the Food Network website. For Fair fans, it's mouthwatering inspiration.