Back to things we liked about this year's Fair. Every day you could find numerous terrific acts at several locations around the grounds. Predictably enough, the Hound loves the performing dogs and this year there were two different troupes of shows featuring canine antics, both really fun.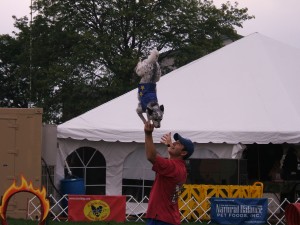 We were less enthusiastic about shows featuring wild animals, even the perennial favorite Sea Lion Splash, as we feel that wild animals should be allowed to live as wild animals. We'll give the birds of prey presented by Hawk Creek wildlife Center a pass as show staff assure us that all of the birds involved have injuries that prevent them from living in their native habitats.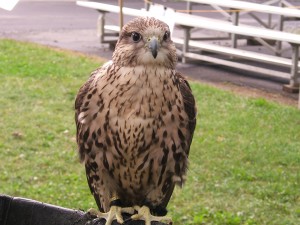 The Nerveless Nocks, a thrill show featuring cyclists spinning inside a cage, was popular as was a crazy hoop show, really more acrobatics than basketball, that turned out to be an excitement slam-dunk.
Don't forget the traditional favorites at the Iroquois Village and under the circus tent. Just trying to keep track of all the free entertainment can make you dizzier than the Top Spin and that's a very good thing.