Now, with under two months to go to opening day, there's plenty of activity underway in preparation for New York State Fair 2015, both with Fair staff and planners and with workers and tradesmen around the grounds.
First, to update Hound readers on the construction on both sides of the colonnade, the Science and Industry Building ramp, seen in the photo below, appears to be completed. Meanwhile, masonry steps and a ramp with the same look continues under construction on the Dairy Products Building, which is on the other side of the center ramp, which flanks the clock.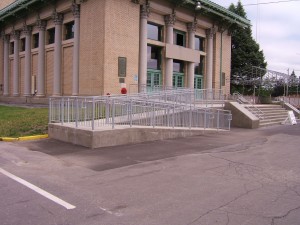 Meanwhile, at the far side of the grounds, the Anna's Pizza stand has been demolished, disappointing thick-sliced pizza fans, but offering opportunity for a new entertainment venue. Acting Director Troy Waffner revealed in a recent chat with your State Fair Hound that the Midway Music Series will not return to the Talent Showcase stage this year, but there will be live entertainment in that area as the former Anna's site, seen below, will host local and regional acts on a regular basis.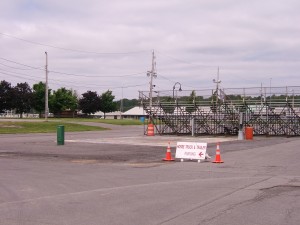 We hope to see the MMS back in the future as its diversity of talent added a different stroke to the Fair's entertainment lineup. The challenges of keeping it booked, promoted and drawing consistently led to its current suspension, but there may be possibilities in the future.
As the Fair rolls on in the run-up to opening day, the Hound will be posting more often with news and photos to get you ready, so check back soon.