It's time to start practicing your free throw shooting, water gun marksmanship, balloon bursting skill and baseball throwing if you aim to win on the Wades Shows midway. These pics from 2014 remind us that there are plenty of chances to go for a stuffed animal or trendy little knick knack by playing the game of your choice.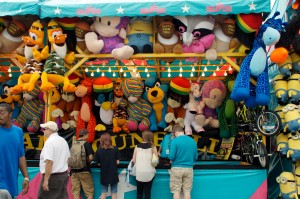 The games and prizes change from year to year and we saw a lot of new personnel running the joints during Wade's initiation last year, but the spirit remains.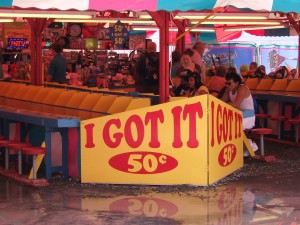 One challenge we always take a run at is I Got It, a combination of tic-tac-toe and skee ball. It's cheap to play, lasts a couple of minutes, so you get more entertainment for your money and someone gets a prize in every game. Never mind that the cheezy bric-a-brac you can claim is barely worth carrying home, it's real Americana. And it's a truly classic element of the New York State Fair.