Recent news reports provide the proverbial good news and bad news as regards use of the mistake-by-the-lake amphitheater during the 2017 New York State Fair.
Earlier plans had pointed toward completion of the paving of the so-called orange lot in time for this year's opening day, but that's not happening.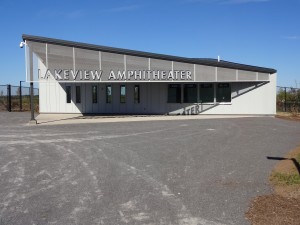 New blacktop should be lined and ready for the 2018 Fair, but for this year it's the same old dusty surface we've come to love. That change should help improve conditions for everyone parking there, though it's merely a small step toward real relief.
It appears that Fair patrons will be sharing that lot with amphitheater concert fans exactly twice, Aug. 25 and Aug. 26. Thus there are two consecutive evenings that will likely be more painful than usual to make the drive in for the Fair. That's half as many as last year, but still two too many, especially since The Hound hasn't heard anything in the way of planning that should mitigate the traffic jams and parking headaches that occurred last year.
Undaunted, the County Exec has demonstrated a sense of humor about the situation. The Post-Standard quoted her as saying that "When we're done, we will be the most easily accessed (Amphitheater)" in the state. That kind of recklessly grandiose prediction suggests that Joanie is following the lead of the king of boastful BS, the arrogant sleezeball who has promised to make America great again.
Since this website is about the New York State Fair, let's just breathe a sigh of relief that only two of our upcoming 13 days will be bring the frustration and challenges of dueling venues. It's something to keep in mind when planning your visit.