The hound is coming back after a lengthy visit to the vet with number seven on our list of things we liked about State Fair 2013. It's been a while since our last entry, but not to worry, there are still about 200 days until the gates open for the 2014 Fair.
Those of you who didn't pick up a map and track down the Empire State treats along the Taste of New York trail may not have tried all of our home state's best flavors. You didn't have to do a lot of walking—you could complete the trip with a stroll from the Main gate area to the Horticulture building to the wine tent. Each stop gave you a chance to find some homegrown treats and often there were free samples.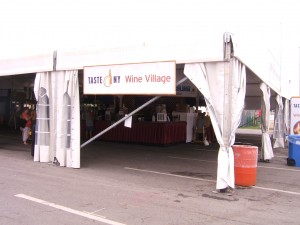 By getting stamps from vendors in each spot, you could submit your entry for a chance to win prizes. It was a worthwhile search. Put it on your itinerary for next year.