Time for another thing we liked about the New York State Fair just past.
It was a great feeling to come home to the stately buildings and charming grounds we love. Everyone who has been going to the Fair for many years has to feel a certain rush when pushing through the turnstiles. We hope you took our advice and arrived with a plan of where to go first, but there's always something bidding for your attention from every direction.
It's the ambience and beauty, but it's also the kid-in-a-candy-store thrill of being there just for the fun. Beyond that, you eventually had to come face-to-face with the imposing and handsome colonnade, the inimitable glazed-tile entrance of the horticulture building, lovely brick patios, the museums, barns, stands, stages, green spaces and all of the other sights that make the Fairgrounds an iconic Central New York locale. Then there's the sounds, the smells, everything that makes it our favorite annual party.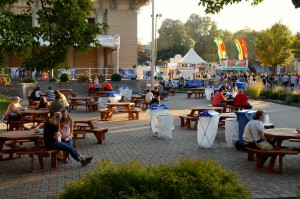 We're all waiting for August 21, 2014 to make that annual pilgrimage again, but in the meantime, take in other special events that take place nearly every weekend and flash back to Fair time.