The Syracuse Post-Standard published a letter on Sep. 6 from a local man with two complaints about the Fair. First, he said he couldn't find a vendor to serve him a cup of coffee. Second—a New York State Trooper was rude to him. There has to be a couple of dozen stands that have coffee—they're not that hard to find. Unfortunately, neither are rude troopers.
But it seems to us that a more comprehensive review is in order and we'll start today with 10 things to like about the Fair just past, one by one, in no particular order. Logically enough, we'll follow up with 10 things about the 2013 edition we'd like to see changed or improved. We hope you will follow along and submit comments when you are so inspired.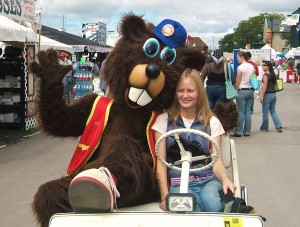 So here we go–State Fair Hound proudly present Things We Liked About the Fair.
One thing we liked about this year's Fair—as we mentioned in an earlier post–the prices. People who complain that the Fair's too expensive aren't dealing with reality. Even if you pay the full admission price of $10, that's no more than a movie. If you just watch Hilby perform and catch one animal act, you got your money's worth. Most of the Chevy Court performers command more than that for a concert. The gate price hasn't increased since 2003. It seems as if parking has stayed at $5 per car for at least that long.
If you're going broke on food, you may not be shopping wisely. Hound photographer Nick LoPresti (who took this pic) decided while shooting on the grounds that he wanted a steak sandwich. He decided that one vendor's version was too pricey at $11. Good call. Within a couple of hundred feet, there was another contender selling for $9 and a third for $7.
You can always shop around to get a good deal (except in the Grandstand, which we'll address in our 10 Things We'd Like to Change).
So some on, folks. Save up a little, buy advance sale tickets, car pool or take a bus, look for good food deals and you get way more than your money's worth.