851,157–the attendance total for the 2013 New York State Fair is disappointing. So why didn't more New Yorkers attend?
Some jaded local folks use a standard line—"it's the same every year."
That's simply not true. Some characteristics are essential to the Fair being what it is and they won't change. There will always be barns full of farm animals. There will always be a hectic midway of rides and games. Those historic buildings will always be full of exhibits, displays, hucksters, artwork and entertainment. Music and other performances will bring the grounds' stages to life. New York history and culture will be prominently featured.
And food, that glorious fair food will always entice and delight fairgoers and occasionally cause indigestion.
Honestly, if those things changed most people would feel disappointed. We want to pet a cow, watch the gadget sellers and play I Got It once a year. Tradition is important out there.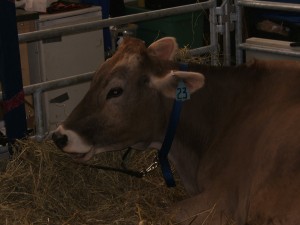 But this year proved that there are always a few new wrinkles to keep it fresh and some acts that will draw crowds to the Grandstand and Chevy Court.
If you can't find something you like, you're not trying.
The weather was good this year, a bit too hot some days, but not unbearable for the most part.
Too expensive? Really, where can you get close to this much entertainment for 10 bucks, $6 advance sale? Shop around and you can eat pretty well for a reasonable price.
In upcoming posts we'll review this year in more detail and offer some thoughts on how to boost interests and make next year even better. But we won't accept excuses from those who skipped it.
Oh—if you have ideas, we're listening and so is the Fair. You can submit suggestions and comments on the website, nysfair.org. Keep it constructive, OK?