As frigid weather lays heavy over Central New York, do what your State Fair Hound does, think about those glorious August days coming up at the New York State Fair, 2015 version.
We appreciate the Fair helping us to focus on the warm embrace of our favorite event with some early announcements of musical acts on the bill. The bookings of Eric Church and Everclear have been supplemented with a recently-released list of sideshow acts returning to entertain around the grounds.
We can't disagree with Acting Director Troy Waffner's assertion that fans will be pleased with the return—after a one-year absence—of the Sea Lion Splash (illustration by Nick LoPresti).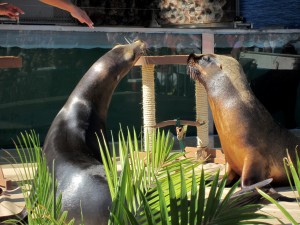 The Hound holds out hope that one day the Fair will become a leader in refusing to book acts that feature wild animals. We don't believe that the sea lions or the Wolves of the World, also returning this year, are mistreated in any way. But no matter how kindly these creatures are treated, life in captivity, traveling from town to town, can't satisfy their wild nature and instincts.
Also on the list of acts announced are the Walker Brothers Circus, wandering performers Hilby and Bandolini (Herm Card photo) and Team Sandtastic, builders of the sand sculpture. The complete list is on the Fair's website, nysfair.org.