Category: Concert critiques
The final country music show at the New York State Fair Grandstand wasn't quite as memorable as some of its shining moments of years past, but the rollicking, rowdy, mixed bag of country and rock delivered Sunday night by Hank Williams Jr. and his sparkling seven-piece band wasn't a bad way for the old stadium to go out.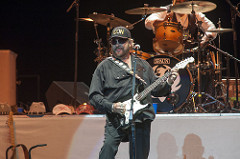 It wasn't as unforgettable as Vince Gill's dazzling marathons, Alan Jackson's traditional country shows, Alabama's harmonious celebrations, Keith Urban's rocking parties, Brooks and Dunn's hit parades or even Reba's rainout. But it was a fast-moving, 90-minute train of memories and musicianship with never a dull moment.
Hank does things his own way, no surprise there, covering a lot of his biggest songs, but often only fragments, before moving on. He paid tribute to country influences from Waylon Jennings to Johnny Cash and, of course, his own sainted father. But as he said in song, "his kind of music and mine ain't exactly the same," proving it with snippets of songs from Lynyrd Skynyrd, Aerosmith, ZZ Top and Foreigner.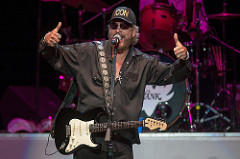 It was a relief that Bocephus avoided the type of political rant that has come back to haunt him over the past few years, instead concentrating on singing and talking about his favorite subject, himself. It wasn't unexpected after he appeared wearing a hat that said "icon," but it can get tiresome.
But when looking at the big picture, this full-moon August night wasn't about one performer, no matter how talented, charismatic or bellicose. It was one last chance for fans who have seen great country acts, including some Hall-of-Famers, to look beyond the stage to the glittering midway and the venerable buildings of the Fair, something they've done many times, one of the pleasures they will surely miss when future shows are moved off the grounds.
One highlight that your State Fair Hound won't forget is Hank Jr.'s furious fiddling on Kaw-Liga, a song co-written by his father, and one very likely performed at the Grandstand's first concert. That one featured country star Charley Pride—one of the aforementioned Hall-of-Famers—in 1976. Pride had one of his biggest hits with Kaw-Liga, back in 1969. Now, 39 years after the first show, that quirky country classic echoes through the same old Grandstand, now destined for demolition. Now that's symmetry.
(Photos courtesy of the New York State Fair)
When you see a lot of musicians in the crowd at a concert, that's a sign that the show features a respected, admired performer. Vince Gill has certainly earned the reverence in which he is held by fans and there were several noteworthy Syracuse pickers on hand at Chevy Court on August 28 as he flashed his versatile and innovative guitar playing, complemented by his glorious vocals. Not since Asleep at the Wheel parked their bus behind the Stan Colella Stage in 2008 has the New York State Fair hosted such pure country magic.
While the Talented Okie is no doubt the ringleader of his band, he's also smart enough to surround himself with the best band he can find, this night including the pedal steel wizardry of Paul Franklin. That's the job held for years by the late John Hughey, a man Gill often called his hero. Franklin, one of the busiest session players in Nashville, has worked in recent years for such luminaries as George Strait, Alan Jackson, Shania Twain and Martina McBride. Earlier in his career, he made his bones backing Barbara Mandrell, Mel Tillis and another dynamic picker, Jerry Reed. When he wandered from country, he slid into arrangements for Sting, Barbra Streisand and even Megadeath.
While the band also included the heavenly harmony vocals of Dawn Sears and the tasteful keyboard work of veteran piano man Pete Wasner, there's no outshining Mr. Gill, among the most charming and purely talented artists anywhere, regardless of genre. His set list brought back great memories of his days headlining the Grandstand, hitting highlights on "I Still Believe in You," "Liza Jane," "Oklahoma Borderline" and his breakthrough hit, "When I Call Your Name."
He and Franklin played four cut from their new CD Bakersfield, released in July, as a tribute to California favorite sons Merle Haggard and Buck Owens. Fans who loved this show should not only buy Bakersfield, they should also seek out recordings by the Time Jumpers, an assemblage of amazing talent featuring not only Gill and Franklin, but also singer Sears, fiddler Larry Franklin and several other of the finest country players around. That band holds fort at Nashville's Station Inn, rarely touring because members are in such demand in recording studios around town.
As this evening reminded—where you find Vince Gill, you will hear great country music.
An irony came up that night involving Dawn Sears, who earlier this year had been diagnosed with cancer. While introducing the show, B104 radio's Tom Owens asked for prayers for his broadcasting partner Becky Palmer, a popular voice among local country listeners and an old and dear friend of State Fair Hound. She's fighting her own battle with cancer. We second Owens' call for love and support for Beckaroo, a classy, funny, sweet lady. She's spunky, too, so we expect her to make a solid recovery.